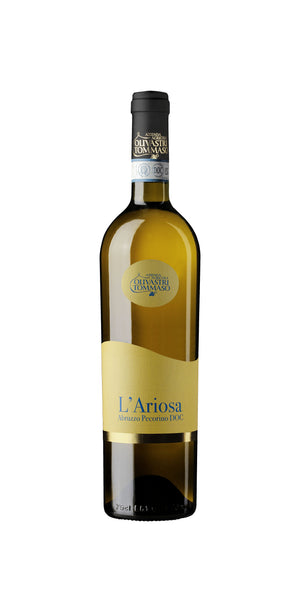 Olivastri Tommaso
L'ARIOSA PECORINO Abruzzo Pecorino DOC 2021
Pecorino is one of the most ancient regional whites. The name of this vine, in fact, would seem to have been assigned to it because the departure for the transhumance (the seasonal migration of the flocks guided by the shepherds on the Abruzzo mountains) coincided with the ripening period of this grape and it is said that the sheep were greedy by the small berries of these sweet clusters.
The Ariosa is the name with which, since time immemorial, the peculiar and uncontaminated area of ​​lands stretched out close to the sea of ​​the Costa dei Trabocchi, characterized by fresh and sandy soils, rich in a distinctly marine minerality and microclimate mitigated by the constant sea breeze.
In each vintage, this wine interprets this fortunate production area with utmost expressiveness, giving us faithful interpretations of terroir and revealing wonderful savory sensations and enveloping aromatic and gustatory intensity. Its evolution over time is remarkable.
Technical information :
VARIETY:

100% Pecorino
VINIFICATION: crushing, soft pressing. Thermo-controlled fermentation in steel
AGING: steel 2 months, bottle 2 months
ORGANOLEPTIC CHARACTERISTICS: straw yellow with golden reflections. Bouquet with intense hints of exotic fruit, citrus, white peach. Sapid and with a remarkable structure on the palate, good persistence with a slightly almond tail
SERVICE TEMPERATURE:

12 ° C
GASTRONOMIC PAIRINGS:

seafood dishes with balanced flavors but rich in taste perceptions: first courses with fish sauce, marinated fish cooked on the grill, fish balls with sauce, cheeses, elaborate dishes of white meats
TO DRINK: bottled in purity, Pecorino reveals over the years an interesting evolutionary path: time enhances, in fact, its natural vocation to the complexity of olfactory notes and to the harmonic richness perceived on the palate. Among the white wines to keep and follow over time
AGING POTENTIAL: 5-10 years
For all acknowledgments, CLICK HERE