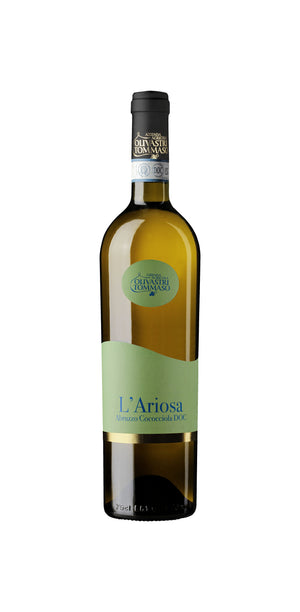 Olivastri Tommaso
L'ARIOSA COCOCCIOLA Abruzzo Cococciola DOC 2021
Cococciola is an ancient, peculiar but still little known grape variety of our region, whose typicality is closely linked to our production province, Chieti.
Since the early 2000s we have planted and rediscovered this grape variety with great satisfaction, grown in our marine estates in L'Ariosa, an uncontaminated area of ​​land extending close to the sea of ​​the Costa dei Trabocchi characterized by fresh and sandy soils, rich in a distinctly marine minerality and microclimate mitigated by the constant sea breeze.
The wine we get is extremely unique and strongly identifying; it is characterized by its delicate hints of fruit and aromatic herbs on the nose, which reveal a surprising and more marked personality on the palate: a wine of extreme freshness, sapidity and appreciable acidity. An authentic sip of the sea on a hot summer day.
Technical information :
VARIETY:

100% Cococciola
VINIFICATION:

crushing

, soft pressing. Thermo-controlled fermentation in steel
AGING: steel 3 months, bottle 2 months
ORGANOLEPTIC CHARACTERISTICS: delicate straw yellow with light greenish reflections. Hints of pear, apple, white-fleshed fruit and herbaceous and almond nuances. The characteristic acid note of this vine stands out, cleansing and degreasing on the palate. Remarkable freshness and flavor.

SERVICE TEMPERATURE:

10 ° C
SERVING SUGGESTIONS:

excellent with

raw fish dishes, fish first courses and fresh cherry tomatoes, fresh and aged cheeses, battered vegetables and fried fish. Excellent with sushi
TO DRINK: in the current vintage, its pleasant and identifying freshness and acidity are appreciated; after a few years aging the acidity takes the wine into a more finely balanced and mature connotation.
AGING POTENTIAL: 2-5 years
For all acknowledgments, CLICK HERE