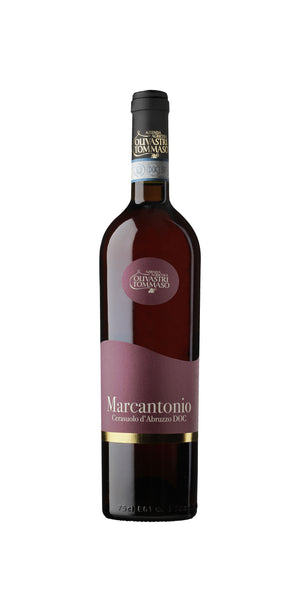 Olivastri Tommaso
MARCANTONIO Cerasuolo d'Abruzzo DOC 2022 - sold out
Cerasuolo d'Abruzzo is one of the wines most deeply rooted into the Abruzzo's peasant tradition. Its production was in fact widespread in rural areas and mainly intended for summer consumption, as a refreshment during hard work in the fields.
Marcantonio is the name of the hilly estates where we grow the grapes for its vinification, purchased by our family from a well-known local landowner whose historic homes can still be visited today between the provinces of Chieti and Pescara.
Today Cerasuolo represents one of the most characteristic wines of our production, which continues to meet growing appreciation, giving us wonderful satisfactions and above all sensations: with the pleasant aromas of small red fruits, fresh, savory, mineral and decisive on the palate. It is a wine of great versatility, to drink for an aperitif or at the table for a pairing that everyone agrees!
Technical information :
VINIFICATION:

white vinification of red grapes only

. Thermo-controlled fermentation in steel
AGING: steel 2 months, bottle 2 months
ORGANOLEPTIC CHARACTERISTICS: cherry red color, with intensity and refections depending on the vintage grapes' characteristics. Rich small red fruits notes. Fresh palate, medium bodied with great savory and persistence.
SERVICE TEMPERATURE:

12 ° C
GASTRONOMIC PAIRINGS:

among the most versatile wines, it lends itself to multiple combinations: from land and sea appetizers, cold cuts and cheeses, to fish and white meats,

roasts from cooking delicate; excellent with fish or legume soups, a must try with ... Pizza!
TO DRINK: to drink preferably in young vintages, to appreciate the peculiar organoleptic freshness of the wine.
AGING POTENTIAL: 1-3 years
For all acknowledgments, CLICK HERE