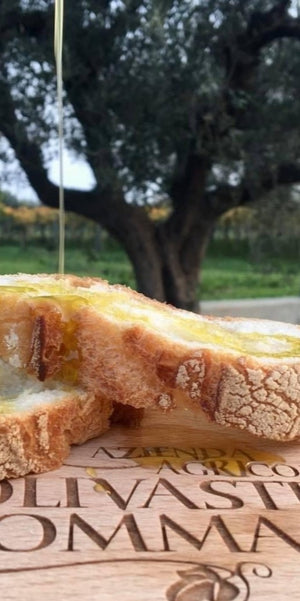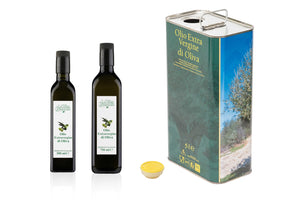 Olivastri Tommaso
EXTRA VIRGIN OLIVE OIL
Superior category extra virgin olive oil obtained directly from the olives of our ancient family olive groves, solely by mechanical means.
With the same passion with which we work our vineyards, we also continue to work our ancient family olive groves located in San Vito Chietino, with plants that are now over 60 years old. We obtain a precious and genuine product, oil, which has always been present on our tables and in our more traditional recipes as it is considered an excellent condiment and an ally for our health.
A good olive oil is characterized by the high content of monounsaturated fatty acids, in particular oleic acid, important for their protective function for the cardiovascular system and antioxidant and anti-inflammatory properties by virtue of its composition rich in polyphenols , Vitamin E and carotenoids.
Technical information:
OLIVE HARVEST CAMPAIGN: 2022/2023
VARIETY:

 Gentile di Chieti, Leccino



PRODUCTION AREA:

 San Vito Chietino, 120 m asl

ORGANOLEPTIC CHARACTERISTICS:

 Golden green colour. Fruity scents with delicate herbaceous notes. Enveloping taste, slightly bitter and spicy on the finish.

FOOD PAIRINGS:

 Oil for the whole meal, in cooking (even in frying) or raw. Excellent on warm or warm bread. Perfect for seasoning soups and first courses. Excellent as a raw condiment, on roasted or grilled meat and fish, seafood or vegetable salads.